Schwartz, Kirwin & Fauss, established in 1870 and Incorporated in 1940 has over 100 years of award manufacturing experience. Specializing in Scholastic / Graduation awards, our expert staff will assist you in choosing your awards for Graduation, Spelling Bee's, Field day and any event where awards are presented. We also serve Hospitals, Fire departments, Sports leagues and local business with their award needs. We pride ourselves in providing Beautiful, High quality awards at reasonable prices with quick, efficient delivery! Our attention to our customer's needs has kept us in business for over 100 years.

________________________________________________________________________

WE MANUFACTURE AND DISTRIBUTE:
SCHOOL AWARDS- AWARD MEDALS - CUSTOM MEDALS - CLASS RINGS -
CLASS PINS - SUBJECT PINS - CUSTOM MADE PINS- TENURE BUSINESS PINS-
SERVICE PINS - ENGRAVED TROPHIES - ENGRAVED PLAQUES - RIBBONS -
CERTIFICATES AND MORE...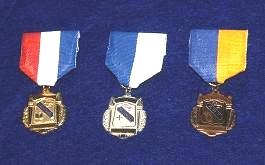 Member:ARA hours of operation: monday-friday 8:30 am. - 4:30 pm. est.


CALL US TOLL FREE: (800) SKF-2450

SCHWARTZ, KIRWIN & FAUSS INC. PHONE:(631)218-6470

7 SHIRLEY STREET UNIT#4 Fax:(631)218-6473

BOHEMIA, NEW YORK 11716-1735 skfinc@optonline.net